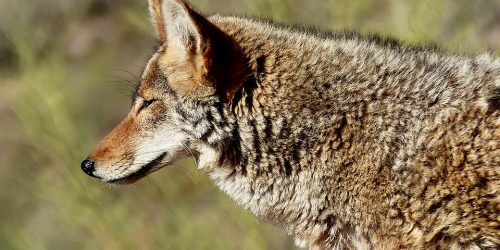 COYOTE INTERACTIONS & WARNING BEHAVIORS:
In order to keep coyotes wary and fearful of humans, is very important for residents to use a strategy as described below:
How to React to Coyote Interactions ("Hazing Strategy"):
Stand your ground and make yourself look bigger by raising your arms or waving a jacket above your head.  Do not turn and run as then you are acting like prey.  Use a noisemaker such as an air horn, a loud whistle, coins in a jar, or pots & pans.  If you do not have these items, yell something like "LEAVE ME ALONE" repeatedly (also alerts others) and if necessary, throw sticks or stones.  Pick up any small children or dogs.  After taking these actions, slowly retreat facing the coyote.  Never feed a coyote or leave food (garbage, pet food, etc.) out around your property as it may result in coyotes perceiving humans as non-threatening.  Always supervise small children and pets outside.
Natural Coyote Actions that Should Not be Reported:
Howling; seeing a non-aggressive coyote or coyote family out at any time of the day (they are not nocturnal); coyotes normally walking across streets, passing through properties, or in wooded areas.
Warning Behaviors (in increasing level of severity) exhibited by coyotes that require a response: (adapted from NYSDEC New York State Coyote Incident Standard Operating Procedures, Baker & Timm 1998, Baker 2008)
Daylight observance of coyotes who do not flee when hazed (e.g., yelling, waving arms, throwing sticks/stones).
Coyotes non-aggressively approaching people or pets during day or night.
Seeing coyotes chasing or attacking pets at night.
Coyotes seen lingering around children's play areas, school grounds, and in parks at midday.
Seeing coyotes during the day chasing or attacking pets.
Coyotes attacking and/or taking pets on a leash or in close proximity to their owners.
Coyotes chasing and/or acting aggressively towards people.
IF ANY OF THE ABOVE WARNING BEHAVIORS ARE EXHIBITED, PLEASE SUBMIT THE COYOTE INCIDENT REPORT FORM HERE.
STAFF WILL THEN REVIEW THE INCIDENT AND CONSULT THE NYSDEC AND/OR USDA AS APPROPRIATE TO DETERMINE IF THERE IS A PUBLIC SAFETY THREAT.
Coyote Fact vs. Fiction:
No other carnivore has experienced as large a range expansion than the eastern coyote.  These coyotes originated in Canada, then northern NY, then expanded south.  By the 1980's coyotes were found throughout the state except NYC and long Island, and then expanded their suburban territories in the 1990's.  Now, they regularly inhabit areas into the Bronx, and sightings have occurred in other NYC boroughs and as far east as Long Island.   Non-aggressive coyotes are not going away and are here to stay.
The large number of people living in Westchester County can make a surprisingly good coyote habitat with an abundant food supply.
Coyotes often look like German Shepherds but at about half the weight (35-45 pounds).
Coyotes are "opportunistic omnivores" who seek to eat what is easy to find, scavenge or catch.  Their diet includes rabbits, mice, racoons, insects, deer, plant materials, etc.
Coyotes are NOT strictly nocturnal.  They may be seen during the day but are more active at sunset and at night.
Coyotes do not migrate.  They stay in their home range.
Coyotes mate for life and the mating season typically peaks in late February and early March.  They have litters of 4-6 pups in April or May that grow rapidly and are full grown by 9 month and are then driven from their parent's home range.  They will go 50-100 miles away to find their own vacant territory, find a mate, and enter adulthood as a pair.
After hearing a family group of coyotes howl, it is easy to get the impression that the woods must be overflowing with coyotes. In reality there were probably just a few who can make a tremendous amount of noise.
To minimize conflicts, it is important that people do their part to maintain the natural fear that coyotes have of humans and remove any outdoor food supply. This includes pet food, bird seed, garbage, etc.
Overall, problems between people and coyotes are rare, yet the potential for conflicts to occur remains. Human behaviors may increase that potential if people feed coyotes (either directly or indirectly), or if they allow coyotes to approach people and pets.
Coyotes acting normally are not trapped and relocated or destroyed in our area.  A coyote can only be removed if it is acting aggressively towards people or is injuring private property.
Can coyotes exhibiting aggressive behavior be trapped?  Yes, NYSDEC can issue a site-specific  permit to trap an aggressive coyote.  They do not issue permits to allow general trapping to remove coyotes without aggressive behavior.
Can the Village get a trapping permit from the NYSDEC for an aggressive coyote?  Yes, but the Village typically places a trap on public property.  A property owner can also request a permit on their property from the NYSDEC by calling (845) 256-3098.
Coyote Information Exchange Meeting - March 9th at 6PM:
Click here to watch the Coyote Information Exchange meeting held on Tuesday, March 9, 2021 at 6:30 via zoom with guest speaker Dana Goin from the Wolf Conservation Center.
Helpful Links:
NYSDEC on Eastern Coyote Information: https://www.dec.ny.gov/animals/9359.html
NYSDEC on Coyote Conflicts: https://www.dec.ny.gov/animals/6971.html
NYSDEC Guidance to Avoid Conflicts with Coyotes: https://www.dec.ny.gov/press/119388.html
Wolf Conservation Center: https://nywolf.org/
Wolf Conservation Center: Coexisting with Coyotes: https://nywolf.org/wp-content/uploads/2020/08/coexistencekit.pdf
Wolf Conservation Center: Why Killing Coyotes Doesn't Work: https://ryebrook.org/documents/coyotes/
Sources:  NYSDEC & Wolf Conservation Center