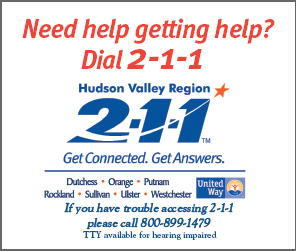 211 Hudson Valley Region is a partnership of the United Ways within our seven-county region, with additional support from county and state government, foundations and individual donors.
The easy to dial 2-1-1 number is a free and confidential helpline that easily links people to the services they need. Available 24 hours a day, seven days a week, people can call about everything from basic needs like food, clothing and shelter, to volunteer opportunities, legal services, drug treatment, employment support, childcare, eldercare and more.
The 2-1-1 information and referral service is staffed by knowledgeable and caring call specialists who can communicate with callers in over 150 languages, as well as TTY for the hearing impaired.
You can find them on the web at http://hudson211.org or dial 2-1-1.