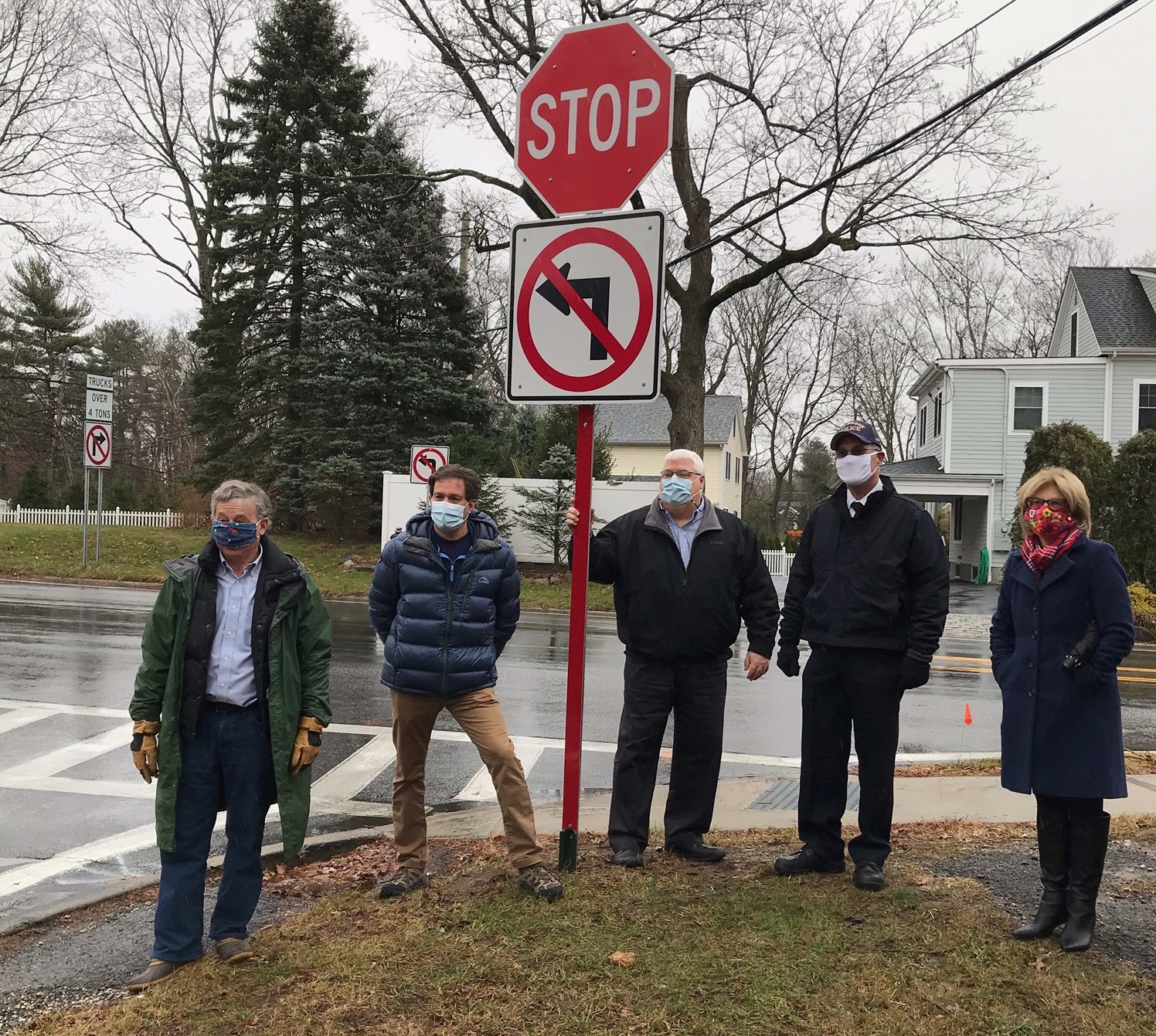 The NYS Department of Transportation, following requests from Rye Brook officials and state legislators Senator Shelley B. Mayer and Assemblyman Steve Otis, have agreed to and installed 'No Left Turn' signs at Exit 30S Route 120A/Rye Brook/Greenwich exit ramp, off the northbound Hutchinson River Parkway. The change was also sought by officials of the Blind Brook School District.
The change addressed the concerns of the village and motorists who complained that allowing left turns at Exit 30S clogged the exit ramp and delayed traffic turning right on Route 120A, known locally as King Street. NYS DOT followed-up with a traffic study that recommended the change in an effort to eliminate delays that also resulted in traffic backups on the exit ramp and the right lane of the Hutchinson River parkway.
Signs have been installed to notify motorists of this change.  Drivers traveling north and exiting at Exit 30S ramp will no longer be able to take a left-hand turn onto Route 120A.  Drivers seeking to travel north on Route 120A have always had the ability to go under the King Street Bridge and exit at the next ramp where a safer right-hand turn takes vehicles onto Route 120A traveling north. That more logical route remains and will be the way travelers should proceed in the future.
Senator Shelley B. Mayer said, "Thank you to Governor Andrew Cuomo and the NYS Department of Transportation for enhancing safety on King Street in Rye Brook. At the request of Rye Brook Mayor Paul Rosenberg, Village Administrator Chris Bradbury and the entire Village Board, there will now be a "no left turn" sign off of the northbound exit of the Hutchinson River Parkway at King Street, thus reducing the risk of serious accidents. This is a good step forward for our community."
Assemblyman Steve Otis said, "Allowing left turns at this exit has been a long-standing traffic problem. NYS DOT and Governor Cuomo focused on the issues we raised and made this solution possible. Changing signage at a state border is more complicated and DOT worked with Mayor Rosenberg, the village board and the professional staff led by Village Administrator Chris Bradbury to allow the needed change. Having been delayed at this ramp many times, I knew it would be worth the effort to have the issue addressed."
Mayor of Rye Brook Paul Rosenberg said, "Prohibiting this left-hand turn will eliminate one of the largest hazards on the streets in Rye Brook, and forcing vehicles to make safer right-hand turns at each exit ramp off the Hutch will save countless lives.   On behalf of the Rye Brook community, we would like to thank the NYSDOT, and Assemblyman Steve Otis and Senator Shelley Mayer, for their support and relentless pursuit of safety improvements to this Hutch/King Street interchange."