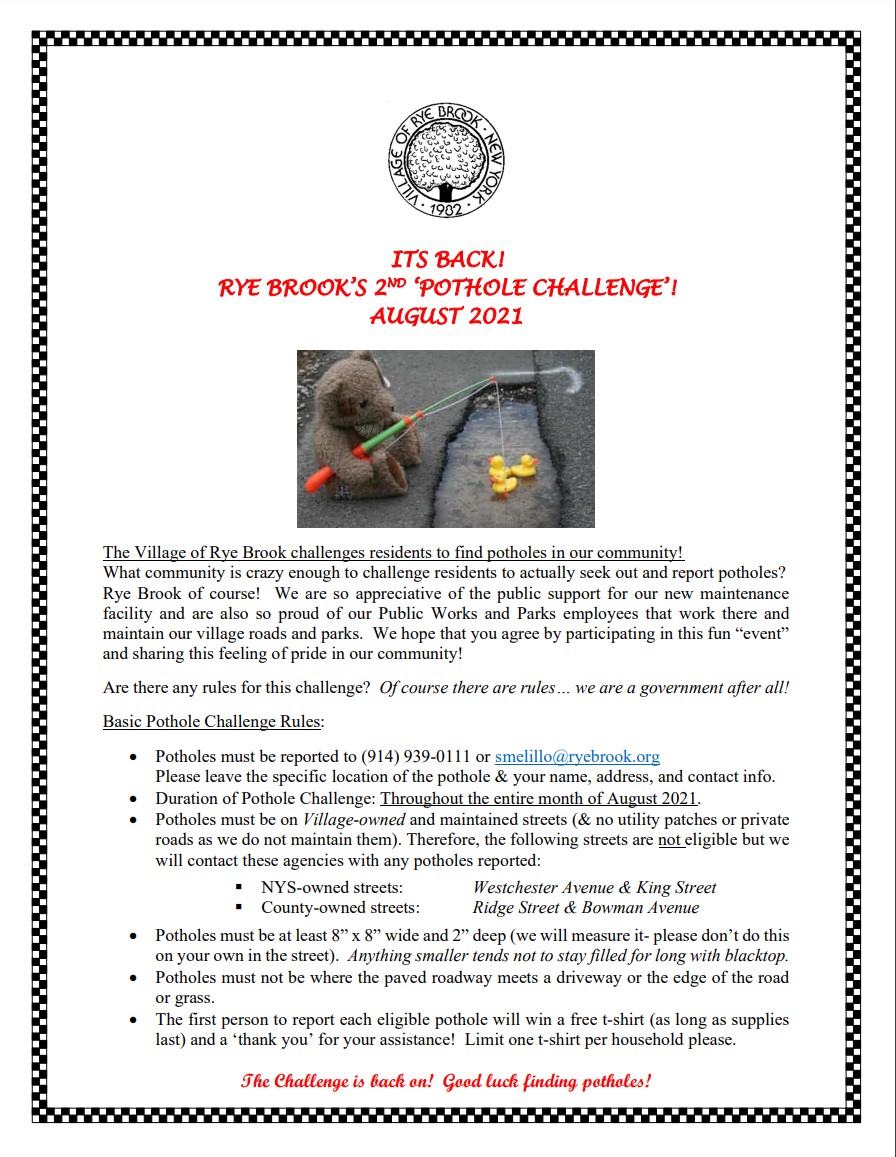 What community is crazy enough to challenge its residents to actually seek out and report potholes?   Rye Brook of course!
We are so appreciative of the public support for our new Public Works and Parks maintenance facility, and are also so proud of all our employees that work out of that location and maintain our village roads and parks.  We hope that you agree with this sentiment and participate in this fun "Pothole Challenge" event and share in this feeling of pride in taking care of our community!
Are there any rules for this pothole challenge?  Of course there are rules… we are a government after all!
Basic Pothole Challenge Rules:
All potholes must be reported during the month of August 2021.
Potholes must be reported to (914) 939-0111 or smelillo@ryebrook.org  . Please leave the specific location of the pothole & your name, address, and contact information.
Potholes must be on Village-owned and maintained streets (& no utility patches or private roads as we do not maintain them). Therefore, the following streets are not eligible, but we will contact these agencies with any potholes reported:
                    NYS-owned streets:     Westchester Avenue & King Street
                    County-owned streets: Ridge Street & Bowman Avenue
Potholes must be at least 8" x 8" wide and 2" deep (we will measure it- please don't do this on your own in the street).  Anything smaller tends not to stay filled for long with asphalt.
Potholes must not be where the paved roadway meets a driveway or the side edge of the road or grass.
What do I 'win' if I find an eligible pothole?
The first person to report each eligible pothole will win a free t-shirt (as long as supplies last) and a 'thank you' for your assistance in helping maintain our streets!  Limit one t-shirt per household please.
If any eligible potholes are found, our dedicated staff will repair them as quickly as possible.
The Challenge is back on!  Good luck finding potholes!